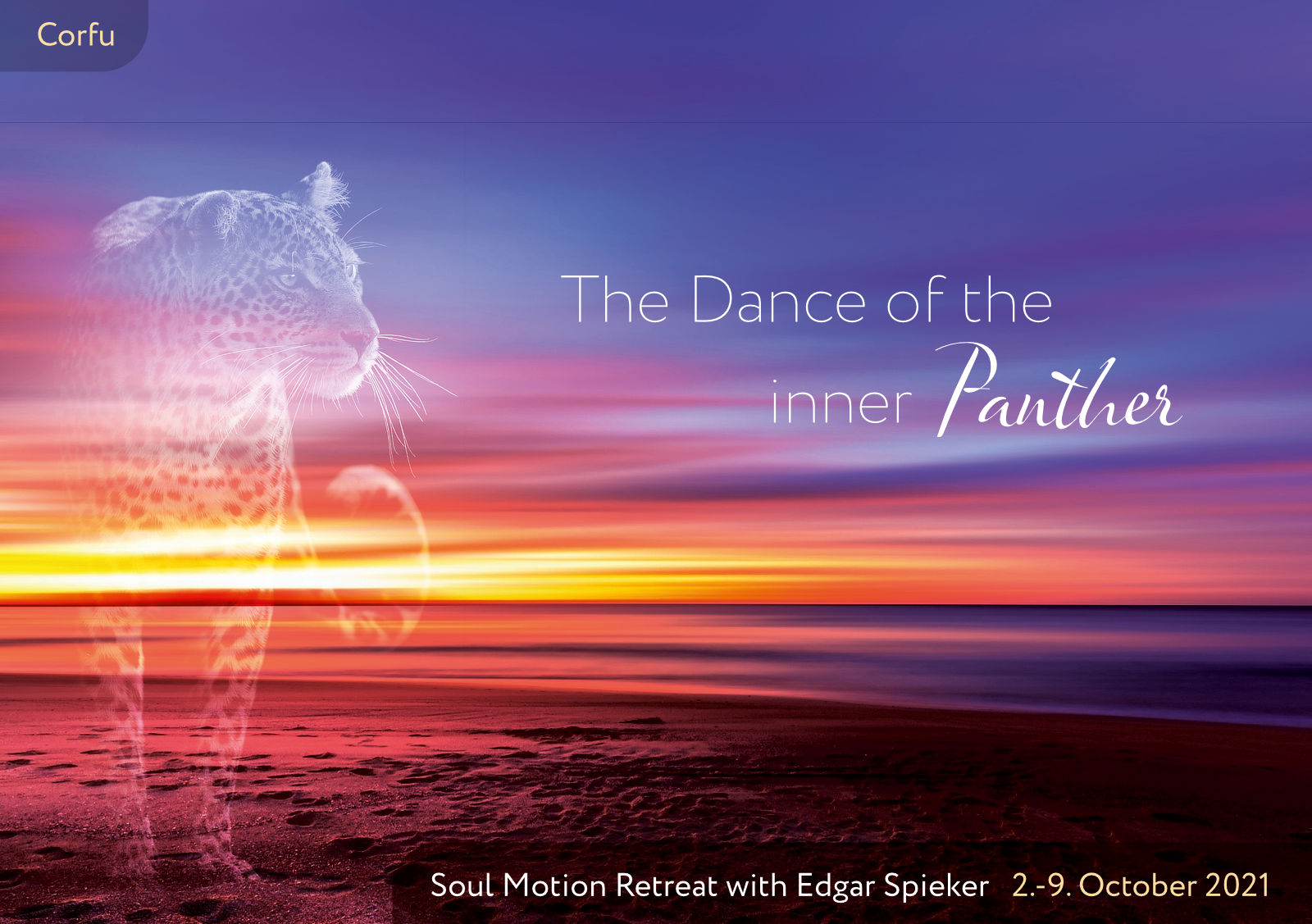 The Dance of the inner Panther
2.-9. October 2021
Arillas / Magoulades Arillas (Korfu), Griechenland
Soul Motion Workshop with Edgar Spieker
Big cats (latin: Panthera) are an impressive and stunning example of a perfect blend of the polarities of yin and yang. Their movements are smooth, soft and flowing. They are devoted in their play, and when it comes down to it, they are masters of strength, speed and determination. They have a strong natural presence, both in motion and in silence.

The panther will be one of our inspirations during this Soul Motion week. Together we practice through the dance to become more present and relaxed with life in whatever way it shows up, in us and around us. We allow tenderness and boldness, depth and lightness, tears of happiness and sadness. All parts of us are welcome and they all have a place in our dance.

We are fortunate to be able to practice this in a very special environment: a stunning dance space on a wonderful island in the warm Mediterranean Sea. Join us for one heavenly week of dance, meditation, reconnecting to ourself and getting inspired by others. There will also be time reserved for relaxation at the beach or activities like hiking or sightseeing Corfu's ancient villages.

Our dance space is the "Buddha Hall", a beautiful studio with wooden floor and stunning vista over the mountains of the island. It is located just a few minutes from the beach village Arillas. Most participants will stay in the small and comfortable hotel "Bardis". The hotel is located almost directly at the beach and it is reserved exclusively for us.

This week is open to everybody, whether you are an experienced Soul Motion dancer or completely new to this dance meditation practice.

Schedule:
Saturday evening: Welcome Dinner
Soul Motion Sessions: Sunday-Friday 10.00-12.00 h and 20.00-21.30/22.00 h. The afternoons are free. Wednesday is reserved as a day off for optional excursions. That day we will only meet in the evening for a dinner and a Soul Motion session from 20-22h.

For registration, travel booking and also individual arrival and departure dates, please contact Annett Schmidt (see below).

Important note about Covid

We are happy that in all likelihood the Soul Motion Workshop can take place in Corfu again this year. Many participants are really looking forward to it and they invest a lot of effort, time and money to be able to be there. With this in mind, we thought about how we want to deal with the Corona Virus issue.

Our aim is to enable all participants to have the most relaxed, fulfilling and safe dance week possible. However, Corona will still be an issue in autumn and we have to take this into account when planning. The reality is: Should there be a positive Corona case in the group, it would not only have consequences for the person in question. It would also have an impact on the entire group and, furthermore, on the operation of the Buddha Hall. The workshop would very likely have to be canceled. For all the people who were looking forward to taking part in this workshop again after the restrictions of the last 1-2 years, this would be a great disappointment and a financial loss in addition to the health risk.

For us, our planning is about minimizing the risk for the above scenario.

According to current calculations, it is to be expected that everyone in Germany who would like to receive a corona vaccination will be able to receive a corona vaccination as early as August. Vaccination is considered to be the best protection against infection and spreading of the virus. Therefore we have decided that the Corona vaccination is a prerequisite for participation in the Corfu Week this year.

We are aware that we are excluding people who do not want to be vaccinated. However the protection of the group, the workshop and the Buddha Hall are our top priority, so we made this decision.

By registering for the workshop, you agree that participation in the workshop is only possible with the submission of an official vaccination certificate.

Another note: The cancellation deadline for the Corfu Workshop is 4.9. If you do not expect to get a vaccination appointment by then, you can cancel your registration in good time.
Fee: 380 €. (Workshop Fee). Plus costs for accommodation and some meals (see below): 479 € Included in the fee for accommodation are 7 nights in double rooms. There are also a few single bedrooms available (surcharge 76 €). Meals included: 7 breakfasts, 5 lunches and 2 dinners. There are several taverns available that offer delicious and inexpensive meals for the rest of the days. Included is also the shuttle bus between the hotel and the dance space (10 Min.). Not included are costs for the flight to Corfu and transfer from the airport to the village (on request).
---
Workshop Registration
In order to register for this workshop please contact:

Annett Kynast
Winterhuder Weg 79
22085 Hamburg
040/98245184
0173/2892865
Email: schmidt@formentera.de